LGBTuesdays: Fun Home
This month here in the LGBTuesday blog post we will be discussing Fun Home: A Family Tragicomic by Alison Bechdel. You may know her from her award-winning comic series Dykes to Watch Out For or The Bechdel Test, a barometer for works of fiction that tests whether there are at least 2 female characters (with names) who talk to each other about something other than men--originally it was meant to measure gender inclusion in movies, but has also been applied to video games, theater, and other media.

Fun Home was Bechdel's first autobiographical piece of longform fiction chronicalling her father's life and death. The story follows a chronological order, from Bechdel's childhood through adulthood as she learns more about herself as well as her father. Fun Home was followed by Are You My Mother? which tells the story of Bechdel's mother in a similar format. The running theme of Fun Home is her father's closeted homosexuality (and relationships with minors) and how it affected the various parts of the family's life.


Although the word "comic" is in the title, this is not a fun read. Anyone familiar with the Fun Home musical may go into this expecting those same, bright tones to shine through, but they would be disappointed. The Fun Home musical has a much more optimistic tone than the graphic novel. The story is enlightening, insightful, but very sad. Bechdel uses several homophobic slurs in her writing, which some readers may find uncomfortable, although they're used by someone in the LGBTQ+ community.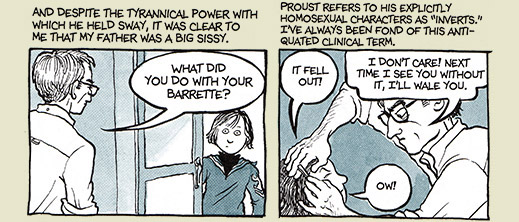 It is important to note that Bechdel's father died by suicide, which is another aspect that might make this an unsuitable read for some people. There are also a large number of literary references through the book by which Bechdel explains various aspects of her father, if you're unfamiliar with authors like Camus, Fitzgerald, Proust, Joyce, and Wilde it may make the book more difficult to understand. The biggest complaint about the book I've found is that people don't like the numerous literary references, but I personally didn't find them distracting.Overall, though, I think it's an important piece of queer history and would reccomend it. You can find it in our catalog here.